~
I have chocolate on the brain.
A few weeks ago I found
Jello Sugar-Free Dark Chocolate Pudding
at WalMart. It was a surprise to me that we liked it. Frank is a diabetic and I try and watch the amount of sugary treats we have. Usually sugar-free desserts means something that taste awful.... bitter.
Of course I haven't seen the dark chocolate pudding since. It seems when I really like something the product just disappears from the shelf... with no spot on the shelf for the product.
I said I have chocolate on the brain, but I don't really want to eat any. I just want the comfort of it... just savor it in my mind :-)
I ate my dark chocolate pudding cup... putting a small amount of the pudding on the tip of my spoon; putting it in my mouth and just holding it there until it melted into oblivion.... savoring the flavor. It took me more than ten minutes to eat a half cup pudding instead of the normal... gulp... less than a minute of any other flavor I've eaten.
There are many Good Chocolates out there and I'd like to tell you about some of my favorites.
Whitman's Samplers has
sugar-free chocolates
that
taste very good
. I think they are every bit as good as their regular chocolates.
Sugar-free doesn't mean fat-free or calorie-free, so fat and calories have to be watched when eating such goodness.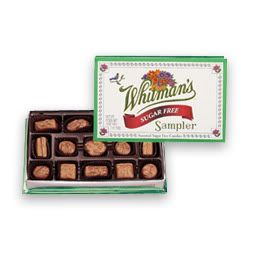 Whitman's Candies is America's oldest continuous producer of boxed chocolates. In 1842, 19-year-old Stephen F. Whitman set up a small "confectionery and fruiterer shoppe" on Market Street near the Philadelphia waterfront.
The Fussy Assortment (called "The Fussy Package for Fastidious Folks" when it was launched back in 1911)was their best selling collection. Whitman's advertised a "money back guarantee," a belief in quality not supported by many other manufacturers of the era.
Whitman's Sampler was introduced to the public in 1912. The Sampler box includes a collection of the most popular pieces of candy sold in the confectionery shop. Whitman's becomes the first in its industry to use cellophane to wrap its packaged products. Cellophane is imported from France until 1924, when Dupont started the United States production.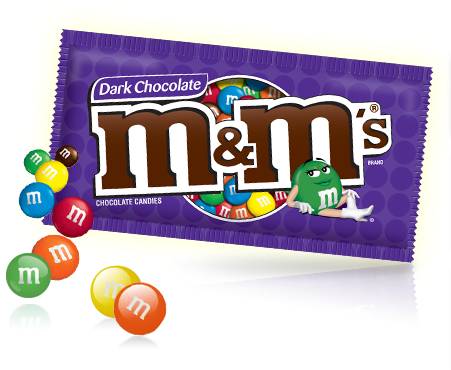 One of my favorite chocolates is M&Ms. Most of the time just a few pieces melted in my mouth satisfy that chocolate urge.
M&Ms were created by Forrest Mars. It is said he saw Spanish soldiers eating chocolate candy they had coated in sugar to keep the chocolate from melting in their pockets during the Spanish Civil War, which took place from 17 July 1936 to 1 April 1939.
M&Ms were first sold in the United States in 1941. By World War II, American soldiers were given the candy by the United States Army; soon after this it was marketed to the public. The candies were named for "Mars & Murrie" Mars' business partner was Bruce Murrie, son of rival Milton S. Hershey's partner William Murrie.
In 1954, Peanut Chocolate Candies were introduced, while the M&Ms brand characters and the famous slogan "The milk chocolate melts in your mouth, not in your hand" were both trademarked.
I'm sure if you were around in the 1960s you remember the chocolate candies jumping into a pool of chocolate to be coated.
Now isn't it amazing that they started from plain chocolate and chocolate covered to the beautiful colors that M&Ms has now! You can special order any mixture of colors you can imagine and have any words printed on them that you want!
I do love their commercials... the candies have gone from no personality to personalities that you almost don't want to eat!
M&Ms has a wonderful
web site
. There is more on their history at the web site. There are recipes and games and you can create your own
M&M's character
. Here is one of mine. Her name is Cammie.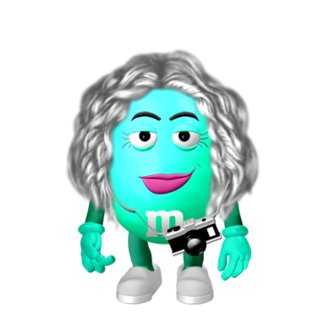 For now my brain is satisfied. I will tell you more of chocolates that I love when I next get chocolate on the brain.
Good chocolate should be savored.
☻